E-VOA is an electronic visa which is valid for 90 days from approval date. With this visa, you can stay in Indonesia 30 days, extendable one time for extra 30 days. The cost is IDR 500.000 for 30 days stay.
With this visa you can:
Visit family or friends.
Visit Indonesia for the purpose of tourism, business, government business, purchasing goods, meetings, or transit.
Attend meetings, incentives, conventions, and exhibitions as an attendee.
Required documents are:
Passport with a minimum validity of 6 months;
Return ticket outbound Indonesia;
Color Photograph;
Information concerning address in Indonesia;
Foreigners who wish to enter Indonesia must hold a passport with an expiration date at least 6 (six) months from the date of arrival (In accordance with the article 22 (1) b Minister of Law and Human Rights Regulation Number 44 of 2015).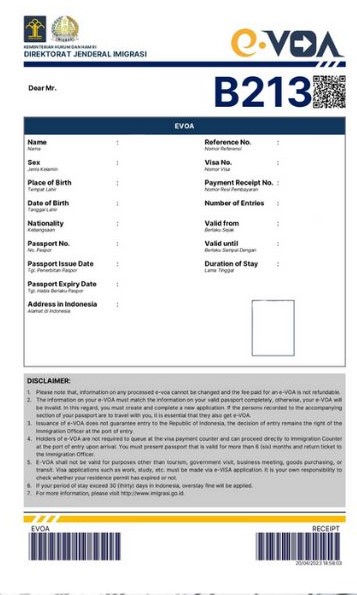 The difference between Regular VOA and e-VOA as follow: