The e-Visa for business purpose (B211A) is valid for 60 days and it is extendable two times 60 days. It is no longer needed to go to the Indonesian Embassy in your home country to apply for a visa. The e-Visa will be forwarded by Jasa Eka to your inbox without you needing to visit any embassy. Once you received the e-Visa, you have 90 days to enter Indonesia before it will be cancelled.
The visa fee of IDR 2.000.000 needs to be paid in advance with the e-Visa application.
Jasa Eka will, in accordance with the provisions of law and regulations, obtain the visa approval from the DGI, file the application for the e-Visa, and complete the e-Visa application payment. The visa will be sent to you electronically as an e-Visa.
Requirements:
1. Color scan of passport (cover + data page).
2. Bank Statement.
3. Proof of having a health/travel insurance.
4. Covid vaccination card/certificate.
5. Color Photograph.
6. Address in Indonesia.
We will send your application to the Directorate General of Immigration after verifying your data and send you the invoice. After receiving the payment, your ID billing will be paid to DGI and your e-Visa will be processed. Note the ID billing is only valid for 7 days. The approval takes 4-6 working days after payment.
Besides your e-visa, further documents you need to enter Indonesia are:
Valid passport.

Covid vaccination sertificate/card (complete doses).
Return flight.
Peduli Lindungi Application.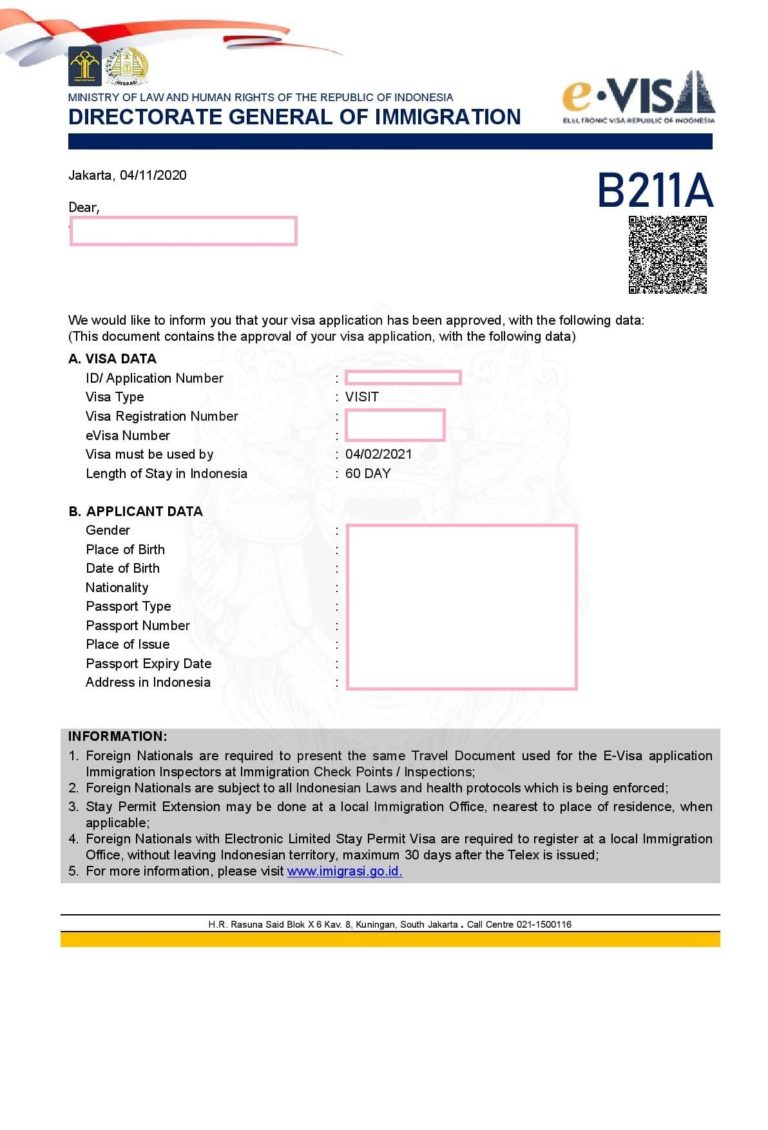 Fill in below your data to obtain your e-Visa index B211A.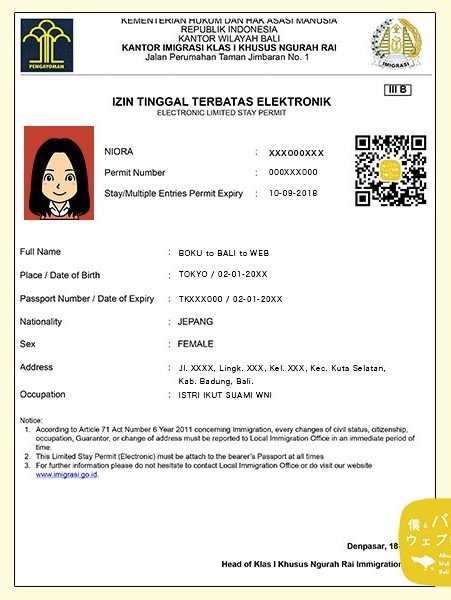 e-visa c317 onshore
e-visa c317 offshore
e-Visa index C317 is a single entry visa purpose for those who married to an Indonesian and their dependants (below 18 years old), wife/husband and/or dependants (below 18 years old) of kitas/kitap holders. It is valid for 90 days. The e-Visa is an entry permit but not your staying permit. As soon as you enter Indonesian territory, you are required to register at a local Immigration Office within a maximum of 30 days to obtain a Kitas. A Kitas is a multiple entry stay permit that is valid for 1 year from arrival date.
According the regulation of Minister of Law & Human Rights, Directorate General of Immigration Nr. IMI-0538.GR.01.01 year 2022,
this e-Visa can also be obtained while you are located in Indonesia.
Requirements for index C317 to individuals married to an Indonesian citizen (all documents are scanned in color):
1.      Passport page and cover (minimum validity 18months).
2.      Bank statement for both wife and husband.
3.      ID card, Kartu Keluarga (family card), Birth certificate (of Indonesian spouse).
4.  Marriage certificate.
5. Proof of vaccine.
Price: IDR 3.000.000 for e-Visa application service fee (not include
visa fee of $150USD).
Note: this price does not include Kitas application at the local Immigration office.
Fill in form below for e-visa c317 application
e-visa index c319,
Starting from 25/12/2022 this visa replaced by second home visa
Second Home Visa is a type of visa that can be chosen by foreigners who wish to live in Indonesia for 5 (five) or 10 (ten) years and not to work. The policy based on PP no. 48/2021 aims to make it easier for international elites or world investors who wish to observe business potential and arrange investment permits to be developed in Indonesia.
The second home visa are eligible to citizens of all countries: 
REQUIREMENTS:
a. A still valid Nationality Passport for at least 36 (thirty-six) months;
b. Proof of Fund in the form of an account belonging to a foreigner or guarantor with a value of at least IDR 2,000,000,000.00 (two billion rupiah) or equivalent;
c. Recent color photograph with a size of 4 cm x 6 cm (four centimeters by six centimeters) on a white background; and
d. Curriculum Vitae 
Note: This type of visa is not suitable for work, if you intend to work in Indonesia, you will need to apply for the e-Visa index c311 or c312.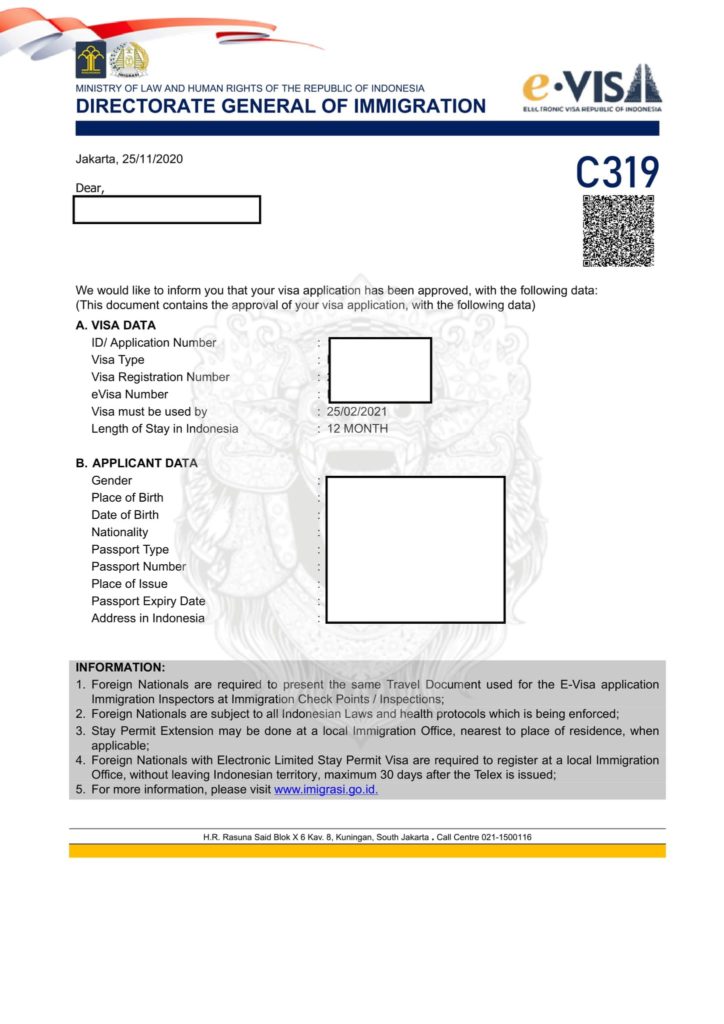 Fill in form below for e-visa c319 application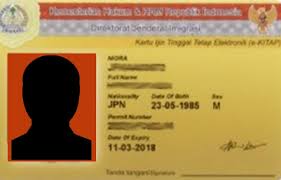 ITAP (permanent stay permit)
After extending the limited stay permit 4 times (5 years), a foreigner can apply for a permanent stay permit (ITAP). The Kitap (Kartu Ijin Tinggal Tetap) is the Permanent Stay Permit for foreigners living in Indonesia.
e-visa onshore index b211a
If you are situated in Indonesia, you can apply for the new ONSHORE e-Visa (for b211 visa holder or EPO from Kitas/Kitap). It is an e-Visa with a stay permit valid for 60 days from approval date. 2 weeks before expiration, you need to apply for the first extension at the local immigration where you are located. It can be extended maximum 2 times. This adds up to a total maximum staying time of 180days.
The general requirements for an ONSHORE e-Visa:
1. Passport (front cover+page with data)

Service fee including sponsorship and visa fee cost IDR 4.500.000.
Procedure:
* Collecting your documents
* After verifying, we will submit your application to the Directorate General of Immigration
* After the application is successful, you will receive an invoice request for payment. Approval takes 6-7 working days after payment.
Not applicable for holder of VOA.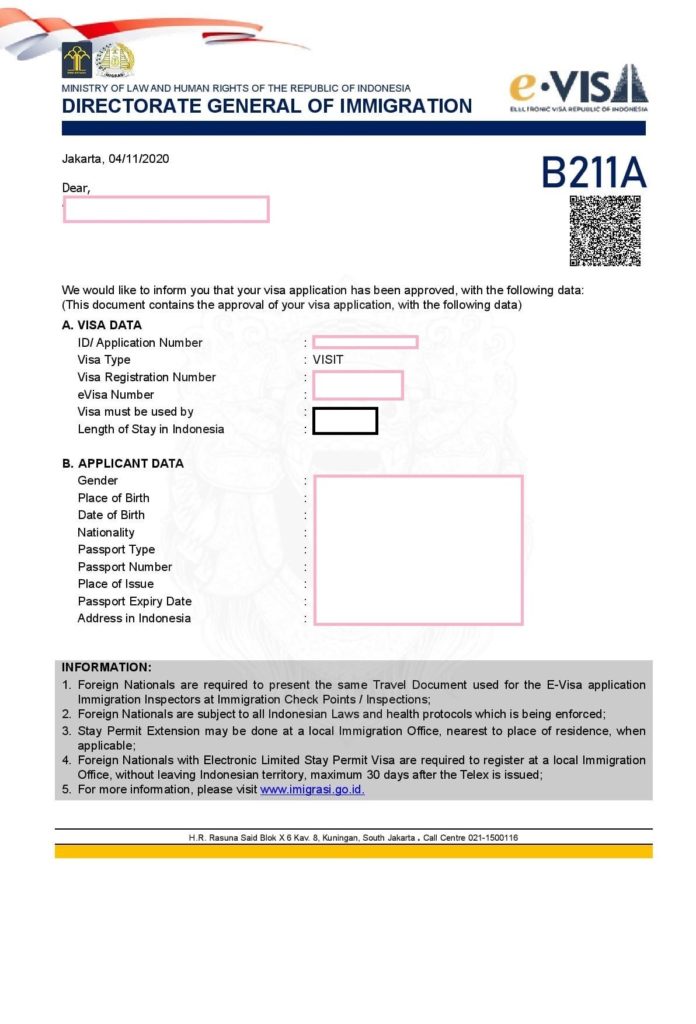 Fill in form below to obtain evisa onshore b211a
More information about visa
purpose of the visa