traveling to Indonesia during covid 19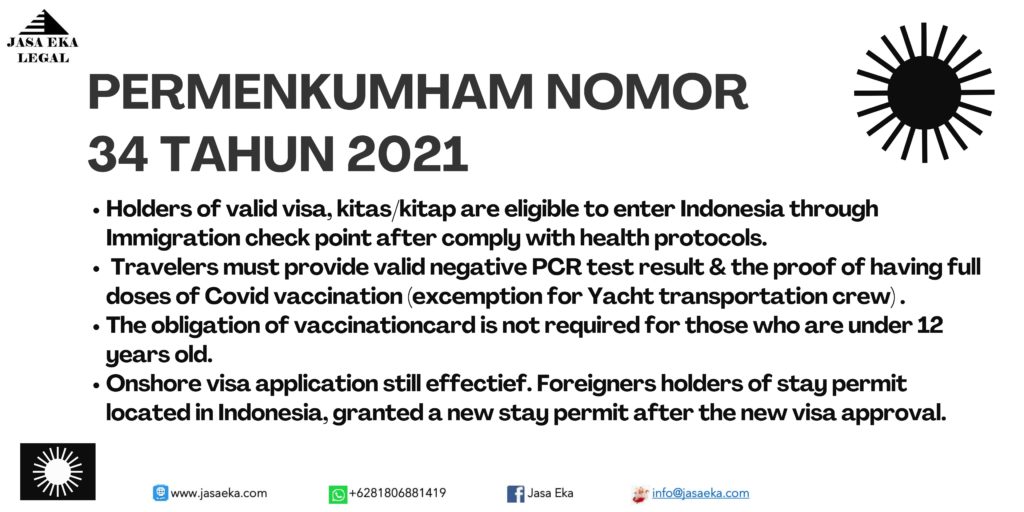 1. What visas are currently available and how to get them / what valid visa/stay permits can enter Indonesia at this moment?
* According to regulation (permenkumham) number 34 year 2021, Offshore visa with the following index B211A, C311, C312, C313, C314, and C317 are available. You can find more information about the purpose for those visas in our web www.jasaeka.com. The applicant cannot apply by them self, it must be done by the sponsor. The sponsor is a company that is registered by Directorate General of Immigration.
* Holders of visa, kitas/kitap, Official/Diplomatic visa holders are allowed to enter.
* Free visa/Visa on Arrival is still suspended.
* Kepmenkumham No. M.HH-03.GR.01.05/2021 added tourism to the B211a visit visa activities. Online application must be made to the Director General of Immigration through a SPONSOR, and that sponsor must be a corporation that is a travel agency or tourism-related
2. I have a kitap, can I enter with my expired MERP?
You cannot enter with expired MERP. You will have to apply for a new visa or can apply online for an extension or new MERP on https://izintinggal-online.imigrasi.go.id/
3. Can I work with visa B211A?
By law you are not allowed to work in Indonesia either self-employed nor for a foreign employer while on a B211 visa. When caught you will be deported and blacklisted.
4. How much fund I have to show as a proof for visa B211A application?
The immigration required available fund of USD 10.000 on the bank account as a proof to be able to pay the stay of up to six months for visa application index b211a. This not applied for visa purposes medical assistance and support, food and humanitarian reasons, the crew of the conveyance and the temporary stay visa
5. What are the requirements for the business & tourist e-visa application?
* A valid passport.
* A proof of a valid health/travel insurance.
* A Covid vaccination card/certificate.
* Sign the required statement (quarantine, monitoring and medical costs at own cost).
* Address information in Indonesia.
* In addition to the existing B211 visa requirements, the tourist visa requires proof of accommodation for the duration of the visitor's stay in Indonesia (not just quarantine) and proof of health insurance with Covid coverage.
6. What are requirements to enter Indonesia besides visa or kitas/kitap?
* Valid passport
* Printed PCR negative result (validity 3x24h)
* Fill in eHAC form at PeduliLindungi application
* Covid vaccination card/certificate
* Confirmed quarantine booking (Quarantine 7days)
7. Will holders of B211 business visas, KITAS/KITAP visas be permitted to fly directly to Bali?
No. MenHub SE No. 85/2021 states that Jakarta and Manado are the only entry points for non-tourism visa holders, while Ngurah Rai International Airport and Batam Airport are the only entry points for tourism visa holders.
8. Do I need to do a quarantine even if I am already vaccinated?
Quarantine is mandatory at the recommended hotel, even if you are already vaccinated. Vaccinated travelers also still need to show a negative PCR test before boarding.
9. What exactly are the quarantine rules?
* Everyone arriving in Indonesia (foreigners and Indonesians) need to quarantine for 7 full days + two extra PCR tests (one on arrival and one after 6 days quarantine).
* At the airport you will be directed to get on a bus to your designated hotel. Some passengers have been able to pre-book their hotel and private pickup, some have been able to choose the hotel at the airport, others were given no choice in hotel.
* Foreigners must pay expenses for the hotel + two extra PCR tests. See below for the list recommended hotel for quarantine in Jakarta and Bali.
* Children and babies must also be tested.

Rules about the hotel where I must quarantine, what can I do or what can I not do?
General instructions are that you may not pre-book, however, some people have reported booking at the 5-Star hotels on the list. If you have managed to pre-book, print out the confirmation and carry it with you.
The general rule is one person per room, although married couples may share a room (travel with a copy of your marriage certificate).
Families with one child (father-mother-child) can share one room in some of the hotels.
Families with more than one child will get an additional room.
The hotels and hallways are monitored by CCTV and guards, and you may not leave your room for 5 days.
Food (3 times per day) is included in the room price and will be brought to your room daily.
Transport to/from the hotel/airport is included.
What happens after my 7 days of quarantine?
When your last test (taken day 6) is negative, you will get a signed, stamped letter stating you are released and can book your onward travel
You are advised to self-quarantine for extra 14 days at your end destination.
11. What to expect for Quarantine?
After you pass the Health Check, Immigration, and retrieve your luggage, you can exit the terminal. You will find a number of buses outside from each quarantine hotel. Arriving passengers say they are free to choose which hotel's bus to board, but make sure it is an authorized quarantine hotel — there were reports non-authorized hotels have been sending buses to the airport and recruiting "guests," although these reports are fewer now. These hotels have no working relationship with the Ministry of Health and cannot provide a Health Clearance and Travel Authorization at the end of your quarantine. You will have to repeat the entire quarantine at an authorized hotel before you can fly.
If you find yourself at a hotel NOT listed in the recommended hotel list, ask them to clearly demonstrate they are a certified quarantine hotel. a) Ask to speak with the representative from the Ministry of Health (all certified hotels have one) b) Ask to see their agreement with the testing laboratory and a testing schedule c) Ask to see an example of the Health Certificate and Surat Jalan they will issue upon completion of your quarantine (all airlines require this).
If they can NOT demonstrate they are a certified quarantine hotel, you should lodge a formal complaint and change hotels immediately. Your quarantine period does not start until you are checked in to a certified quarantine hotel/facility.
The rule change frequently and there can be inconsistencies between the rules, you should confirm all your arrangements.
Other sources of information you can find below:
National Covid-19 Task Force website: https://covid19.go.id/
Immigration website of Indonesia: https://www.imigrasi.go.id
Immigration Visa Online : https://visa-online.imigrasi.go.id
Directorate General of Immigration Facebook: https://www.facebook.com/DitjenImigrasi
Directorate General of Immigration Instagram pages: https://www.instagram.com/ditjen_imigrasi/Offshore visa with the following index
List of Quarantine Hotels in Bali: https://www.welcomebacktobali.com/blog/travellers-info/quarantine-hotels-in-bali